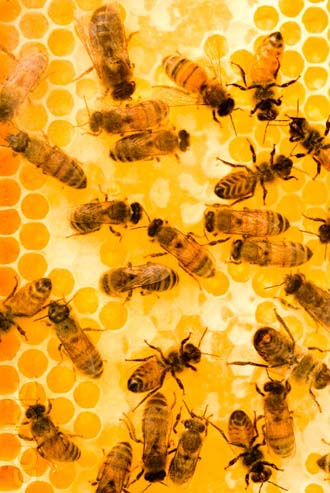 Social Media - Building the Hive

A social media presence should be an integral part of every Web marketer's strategy. Activities such as building your company's social media profile on social networking sites like Facebook or LinkedIn, creating a video channel on YouTube or via RSS, conversing via regular Twitter or Blog posts, and contributing your expertise to various Discussion Forums and Community sites are the start of a more productive hive.
SearchWrite helps marketers enagage with their audiences and truly become part of the Web's social fabric. Here are ten socially-motivated steps we take in that direction.
#1 - Connections. By adding key influencers to your Social Network, from the blogosphere to the Twitterverse, we help you connect with people, get published, and get opportunities flowing.
#2 - Forum Mastery. We introduce your company to the most authoritative communities, discussion lists, listservs, trade and association forums and other expert panels so you can engage in the dialogue.
#3 - Blog Appeal. We focus on cross-posting, team-blogging, and RSS-ified multimedia solutions for several verticals that reach out, stand out and make impact. We generally recommend you post and comment at least once a week at each of these outlets.
#4 - Make a Headline each Week. We forge bonds with social news editors, influential bloggers and the leading Wire Services (both paid and free). Effective Web PR is effective link building, and vice-versa.
#5 - Get Truly Universal. Need language, domain or shopping cart Localization for international markets? SearchWrite was pleased to participate as a charter member in the inaugural International Search Summit in Seattle and to work with clients that span the globe.
#6 - Thinking Globally. Speaking of languages, for select postings that you make across the social media spectrum - use the same exact title and description and translate it into Spanish or French. You'll be surprised at how much traffic and links they will generate (and you don't even have to translate your content).
#7 - Focus. Let us help you idenitfy your niche networks. NOT the over-hyped, all-purpose social networks that don't drive traffic or influence people but the specialty groups. Be a big fish!
#8 - Answer. Let us prepare you to answer 2-3 questions per week in your niche on Yahoo! Answers, Askville, LinkedIn Answers, AOL Answers, Avvo Answers, AllExperts and more.
#9 - What's your Sentiment? We use Social Media Monitoring Tools to track occurrences of your company name and product online. You''ll see where people are talking about you, what they are saying, whether it is positive or negative, and be able to respond to the conversation. A crucial step in Reputation Monitoring and Management!
#10 - Getting Rave Reviews. If you own a business, user-generated reviews can play a decisive role in your success. But how can you actually recruit positive reviews and inluence your users to post them. Just ask us!
How sweet it is! By making a beeline to SearchWrite's enlightened approach to social media marketing, you will cultivate the right buzz for your social media success!

Connect with SearchWrite via Email for a free initial consultation.
Call (206) 842-5420.